Michael J. Sullivan's Store



Buying print books direct from this page is the best way to ensure the highest percentage of income comes to me. I buy the copies from my publisher (so they get their cut), but the money that would otherwise go to the retailer and distribution chain flows to me rather than them.

All my in print books are available for purchase from this site and you can specify whether you want the books signed or not.

I also offer ebooks for books where I control the electronic rights. For ebooks, you'll receive .mobi (kindle), .epub (nook & iPad), & .pdf (tablets and phones) and they are DRM free so you read them on whatever device you want. Unfortunately, sending the books isn't an automated process, but we do check for orders at least once a day, and we'll email the ebooks to you as soon as we see the order. If for some reason you aren't seeing your ebook drop us an email and we'll get it right out.

Thanks for your support!
Shorts and Samples (FREE)
| | | | |
| --- | --- | --- | --- |
| | | Click on the button below to specify which shorts you would like to receive. | |
The Riyria Revelations
Trade Paperback
$16.00

Trade Paperback
$17.00

Trade Paperback
$17.00

The Riyria Chronicles
Trade Paperback
$16.00

Trade Paperback
$16.00

eBook Edition:
$9.99


---

eBook Edition:
$9.99


---
Legends of the First Empire
Hardcover
$27.00


---

Mass Market Paperback:
$9.99

Hardcover
$28.00



---

Mass Market Paperback:
$9.99


Hardcover

$28.00

---

Mass Market Paperback:

Not currently available









Hollow World (standalone sci-fi thriller)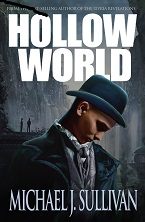 eBook Edition:
$7.99

---
Trade Paperback
$15.95

Comic (available now) & Graphic Novel (coming soon)