'Tis the season for gift gifting, and to help you stretch your dollars, I'm offering all my books at their biggest discounts ever

25% - 50% savings

. And the best part is they'll come signed and with one of our custom-designed bookmarks. Here's how the discounts break down:

50% savings ebooks: For all titles where I retain the ebook rights.
50% savings print books: For printed copies that I've obtained at significant discounts.
25% savings other print books: For copies I've bought from publishers at regular discounts.
FREE: digital comic "The Jester" for everyone who buys during this sale
Here's a breakdown of what's on sale and the savings you'll find.
The sale will be for 15 days and end December 11th, and any sales made will count toward your loyalty reward points (which will be tallied in January for determination of slots for hardcover sales pre-orders).

eBook Note: We provide all formats (.mobi (kindle), .epub (nook & iPad), & .pdf (tablets and phones) and they are DRM free, so you read them on whatever device you desire. At this time, sending the books is NOT an automated process, but we check orders several times a day and email files as soon as we see orders come in.

Highly discounted book notes: There are some books which I've been able to get at really good prices, and I'm passing those savings on to you. Here is a bit about each.

Age of Myth w/remaindered mark - These are books which were shipped and returned from bookstores. They are new (no one has read them and there are no highlights or other marks inside), however, they have been "handled" more than books that come straight out of the box from the printer, so the dust jacket might not be 100% pristine. That said, we have removed any copies that have tears or appear damaged in any significant way. Some of these copies will be 1st editions. For the most part, you won't be able to distinguish these books from a new version with one exception: there will be a small "reminder mark" placed by the publisher to indicate these have been sold at a significant discount. Here is what the marks look like. If you don't want the remainder mark, you can buy a copy of this book at the 25% discount.
Age of Swords hardcovers - Thanks to an IndieGoGo campaign, we bought up all the excess stock of these books when Del Rey put this title out of print. These DO NOT have remainder marks and they come right out of the printer boxes. The reason we can offer these copies at such a significant discount is because we bought several thousand copies during the liquidation and we are trying to clear the warehouse so we don't continue to pay for storage. Once these copies are gone there will be no more copies of this book in the hardcover format.
Riyria Chronicles #3 & #4 - Because we self-published AND did a print run for these titles, their unit cost is considerably lower than books we have to buy from our publishers. Again, we're passing these savings onto the readers as part of this special holiday sales. These books have come right out of the printer boxes and have no remainder marks.
The Riyria Revelations
Trade Paperback
Save 25% now $12.00

Trade Paperback
Save 25% now $12.75

Trade Paperback
Save 25% now $12.75

The Riyria Chronicles
Trade Paperback
Save 25% now $12.00

Trade Paperback
Save 25% now $12.00

eBook Edition
Save 50% now $5.00
Trade Paperback
Save 50% now $7.50
Regular Hardcover
Save 50% now $12.50

eBook Edition
Save 50% now $5.00
Trade Paperback
Save 50% now $8.50
Regular Hardcover
Save 50% now $14.00

Legends of the First Empire
Mass Market
Paperback
Save 25% now $7.50
Remaindered Copy
Save 50% now $13.50
Regular Hardcover
Save 25% now $20.25

Mass Market
Paperback
Save 25% now $7.50
Regular Hardcover
Save 50% now $14.00


Regular Hardcover:

Save 25% now $21.00
Hollow World (standalone sci-fi thriller)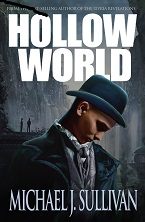 eBook Edition
Save 25% now $4.00
Trade Paperback
Save 25% now $12.00